NEV'S RAPTURE BLOG DEVOTED TO THE SECOND COMING OF JESUS AND THE RAPTURE OF THE CHURCH TO HEAVEN.
THE BLOG OF NEVILLE STEPHENS TO WARN PEOPLE THAT JESUS CHRIST IS COMING BACK TO EARTH SOON, AND THAT THE RAPTURE OF THE CHURCH TO HEAVEN IS VERY CLOSE AT HAND.YESHUA IS COMING SOON AND IS NOW SHAKING THE WORLD (HAGGAI 2:6) TO DRAW PEOPLE UNTO HIMSELF. IT IS NOT THE WILL OF GOD FOR ANY PERSON TO PERISH, SO NOW IS THE TIME TO TURN TO JESUS FOR SALVATION!
Wednesday, 20 June 2018
Israeli jets strike Gaza after rocket and mortar fire
Israeli jets have hit militant positions in Gaza after Palestinians fired rockets and mortars into Israeli territory, the country's military said.
The military said 25 targets linked to the militant Hamas movement were hit, in response to a barrage of about 30 rockets and mortar shells. Residents reportedly said two Hamas security men were slightly injured. No Israeli casualties were reported. The strikes follow weeks of confrontation over the Gaza border.
More than 100 Palestinians have been killed by Israeli snipers amid protests during which thousands of Palestinians massed on the border. They were demonstrating in support of what Palestinians say is the right of refugees and their descendants to return to their ancestral homes in what is now Israel. The UN and human rights officials have accused Israel of using disproportionate force, but Israel says soldiers have only opened fire on people trying to break through the border.
The Israel Defence Forces (IDF) said that Hamas targets, including a number of bases, were struck in three rounds of strikes overnight. Air raid sirens and phone warning systems sounded before dawn in Israel.
The military says the country's Iron Dome anti-missile shield intercepted seven rockets. Kites carrying containers of burning fuel were also sent into Israel, the military said. Gaza, an impoverished enclave of some two million residents, has long been blockaded by Israel and Egypt. The blockade was tightened after Hamas, an Islamist group that won Palestinian elections in 2006, ousted its secular Fatah rivals from Gaza a year later.
Tuesday, 19 June 2018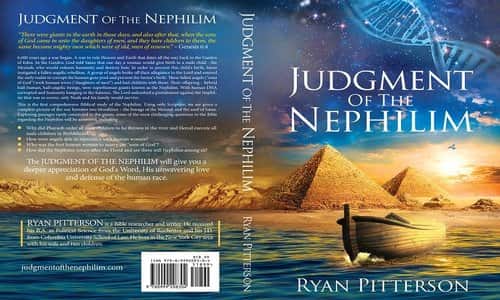 Prepare for some startling new revelations that will challenge some of the basic conceptions about the Nephilim. Exploring passages rarely connected to the giants, some of the most challenging questions in the Bible regarding the Nephilim will be answered
Canada's Supreme Court Rules Against The Bible
In a ruling that is sure to send shock waves through the nation, Canada's Supreme Court ruled 7-2 against Trinity Western University's Law School. In effect, what the court declared is that universities must choose between biblical standards and accreditation.
Israeli Traitor In Our Midst?
In a potentially embarrassing revelation, it has been widely reported that last month the Israel Security Agency (Shin Bet) arrested former Energy and Infrastructure Minister and MK, Gonen Segev – who served in the role from 1995-1996 as a member of the secular right-wing Tzomet Party – on charges of aiding the enemy in time of war and espionage against the State of Israel
"They only plan to thrust him down from his high position. They take pleasure in falsehood. They bless with their mouths, but inwardly they curse." (Psalms 62:4)

Prime Minister Benjamin Netanyahu and King Abdullah II of Jordan met Monday in the Jordanian capital, Amman, for talks on regional developments and bilateral ties
"Even in your thoughts, do not curse the king, nor in your bedroom curse the rich, for a bird of the air will carry your voice, or some winged creature tell the matter." (Ecclesiastes 10:20)
Tehran must re-adjust its policy in Syria a day after an airstrike killed and wounded dozens of Iranian-backed Shi'ite Kata'ib Hezbollah members in Syria near the Iraqi border
"According to their deeds, so will he repay, wrath to his adversaries, repayment to his enemies; to the coastlands he will render repayment." (Isaiah 59:18)
The short film series re-imagines the Holocaust documentary genre by mixing the use of animation and moving personal accounts. The animation brings the stories to life for a current generation whose Holocaust memory is fading—and for a future generation without survivors.
Updates from
John McTernan's Insights
Monday, 18 June 2018
SHARON STONE, 'THE ELIJAH LIST' AND THE NEW APOSTOLIC REFORMATION
Sharon Stone is coming to Ebbw Vale in South Wales, and she is to be avoided at all costs! She is a strong advocate of NAR and is on the "Elijah's List" described by Sandy Simpson of The Apologetics Co-ordination Team as "the biggest distributor of false prophecies in cyberspace."
The Elijah List is an extremely influential organ of the hyper-Charismatic "Apostolic-Prophetic" movement, which vigorously promotes the incorrect concept that God is restoring the offices of Apostle and Prophet to the Church, as the highest tiers of Church governance. It is the underlying essential ethos of the New Apostolic Reformation, which is spearheading a fraud which is leading many down the road to destruction.
Berkshire-based Dr. Sharon Stone (pictured below), whose utterances are enthusiastically hyped by The Elijah List, is such a "prophet" within the New Apostolic Reformation, which is basically another name for the Dominionism or Kingdom Now type of teaching.
Doctrine is low on their agenda as they just luv "signs and wonders" plus of course the usual emotional excitement aroused by feelings and passions! Their teachings on The End Times are also "far out man"!
Their main aim is to restore the Five Fold Ministry Offices, with the Church under the headship of the Apostles and Prophets, thus leading the vulnerable and gullible folks of their flocks astray. They have become part of the Laodicean Church of these Perilous Last Days before THE RAPTURE, and Jesus just wants TO VOMIT THEM OUT OF HIS HOLY MOUTH!
The NAR believes that it has a mandate to take over all aspects of humanity on the earth, and will thereby usher in the Kingdom on Earth PRIOR to the return of Jesus Christ, which is COMPLETE NONSENSE AND ALIEN TO SCRIPTURE!

Satan is "the god of this world" and the "prince of the power of the air and the airwaves" and he most certainly has inspired this Luciferian NAR scenario and has it fully in his grasp!
SHARON STONE AND ACPE: A FALSE PROPHET AMONG FALSE PROPHETS

One notable manifestation of the NAR is ACPE, the Apostolic Council of Prophetic Elders. We need to note well that "Apostolic Prophet to the nations" Dr. Sharon Stone and her husband Greg Black are members of this elite group, alongside a whole host of Dominionist deceivers such as Bill Hamon, Chuck Pierce, Dutch Sheets, Tommy Tenney, Lou Engle, James Goll, Steve Shultz, and Cindy Jacobs who chairs its annual get-together. Cindy Jacobs revealed on one of her 'God Knows' TV programmes about the ACPE summit:
"Yes, in fact, you know... as I chair the Prophetic Round Table, every year I go back and I will pull out the prophecy from the year before, because if we're prophets, then we need to look and see IF WE GOT IT RIGHT; IF WE DID NOT GET IT RIGHT, WE NEED TO GO BACK AND CORRECT IT."
OUT OF HER OWN MOUTH, CINDY JACOBS INADVERTENTLY HAS CONFESSED THAT SHE AND THE WHOLE APOSTOLIC COUNCIL GOT IT WRONG AND ARE FALSE PROPHETS!!
Sharon Stone, given this very close and comfortable collusion, it should come as no surprise that she cites the infamous Bill Hamon as being her father in the Lord, as well as a 5-star general and the father of modern-day prophets.

In Hamon's worldview, the Church's purpose is not so much to preach the Gospel, but to militantly wage war against evil, in a battle the Church will win! I DO NOT THINK SO GULLIBLE BILL!

It is this Army of Hamon, aka as the NAR, which having itself defeated evil will have the authority to judge and to punish perceived evil-doers, that is believers like you and me! GOD FORBID!!

Hamon is a Scripture-ditching urchin with his "Manifested Sons of God" heresy that he teaches, with Christ's incredible impotency to effect His Second Coming until the Apostles and Prophets (like Hamon and Stone) have first "matured" the Church and won the Kingdom for Him:
Satan is a Master Copier and Counterfeiter! He has had his eyes on WALES for quite a few years now, and seizing on the desire of the Welsh to see a new 1904/1905 revival, Lucifer has an ongoing subtle strategy to engineer a counterfeit revival here (as with his false Welsh Outpouring in Cwmbran in 2013), a move which will be hailed as Heaven-sent but in fact comes from the lake of fire and the pit of hell!

The conference this weekend at Love Wales' new Mission Centre at the Festival Church in Ebbw Vale is to be avoided at all costs if you are a Born-Again, Spirit-Filled and Bible-Believing Christian!
| | |
| --- | --- |
| New post on Now The End Begins | |

If the Obama administration took its principles to heart, it would be closing its family prisons and abandoning its emphasis on border crackdowns in favor of greater efforts to connect Central Americans with pro bono lawyers and to provide family- and community-based alternatives to detention.
EDITOR'S NOTE: The Liberal Progressive fake news talking heads are absolutely apoplectic over the fact that President Trump has the nerve to enforce existing immigration law put in place by the Obama administration in regards to the housing and detention of parents and children of illegal immigrant families. But when Obama and his minions did exactly the same thing from 2012-2016, you heard nary a peep from CNN, MSNBC, CBS, ABC, NPR and most of the other fake news media. A few weeks ago, images of illegal immigrant children being held in cages presumably at the hand of the Trump administration caused unquenchable outrage from the Democrats, right up to the moment was it was discovered that those images of children in cages dated back to the Obama era. At that moment, the entire fake news media dropped the story immediately and have never revisited it since. Yeah, putting kids in cages is a disgusting idea, but it was Barack Obama's idea and it is law that his administration put in place.
The following is a 2016 article from the New York Times exposing the Obama administration's decisions to put illegal immigrant children in cages. The NYT was one of the only of the liberal media to go against the Democrat Party line and criticize Obama.
The family detention centers the Obama administration has been operating in Texas and Pennsylvania have been an expedient way to handle the soaring numbers of Central Americans, many of them young children, who have arrived at the Southern border since 2014. They give a sense that Homeland Security has the border situation under control, and they supposedly send a message to other would-be refugees not to come.
These privately run, unlicensed lockups are no place for children. Or mothers. Their existence belies President Obama's oft-professed concern for the humane treatment of people fleeing crime and violence in Guatemala, Honduras and El Salvador.
And the centers stand on dubious legal ground.
L
ast year, a district judge ruled
that the administration was violating a 1997 court-ordered settlement, called the Flores agreement, that governs the treatment of underage migrants who seek asylum or enter the country illegally. The judge said the children were being held for too long, and ordered the administration to release them as quickly as possible to the care of relatives or other guardians as their cases move through the immigration courts.
The Obama administration appealed
, saying that the agreement applied only to children who had crossed the border alone, not those who were accompanied by parents or other adult relatives. On July 6, the Court of Appeals for the Ninth Circuit
disagreed
, upholding the district ruling that Flores covers all children, accompanied or not. But it said the administration could still detain their parents.
Which leaves things pretty much where they were — unsettled, unsatisfactory, unfit for a country that aspires (or once did, anyway) to be an example to the world in its welcome for desperate refugees. The administration hasn't said whether it will appeal, but it's hard to imagine that it will use the appeals court ruling to break up families — sending children to foster care, maybe, while continuing to hold their mothers behind bars. On a separate issue not addressed by the Ninth Circuit ruling, plaintiffs have accused the administration of subjecting children to miserable conditions at Border Patrol stations.
If the Obama administration took its principles to heart, it would be closing its family prisons and abandoning its emphasis on border crackdowns in favor of greater efforts to connect Central Americans with pro bono lawyers and to provide family- and community-based alternatives to detention. Much money and effort have been spent to deter and detain them, to speed them through court, to hunt down those who are later found to be deportable.
It would be far better to to score a humanitarian victory by reuniting children and families, especially since data show that Central Americans with asylum claims are far more likely to show up in court — and win their cases —
when they have lawyers
.
Legislation
introduced this month
in Congress seeks to attack the problem at its root, with funds for combating human trafficking and resettling refugees within Central America and Mexico. But Congress is unlikely to pass it, which leaves the crisis in the president's hands. Donald Trump and his Republican Party minions have taken the immigration debate to sickening lows, with disgraceful animus toward Mexicans and Muslims. Mr. Obama has forcefully denounced such nativism. But he can add strength to his words by ensuring greater protection for those who arrived, defenseless, at the Southern border.
source